End of an X-Man…
After he was introduced to Xavier's dream Kurt Wagner would remain an X-Man for many years, he even served as team leader for a while. His experiences with the team where many. He travelled from one side of the galaxy to the other. He found love in the form of Amanda Sefton…and lost it again. He fought many battles…survived many ordeals…
New members had come…Shadowcat…Dazzler…Rogue…and other members had gone…Banshee…Cyclops…Phoenix…but Kurt was a mainstay of the team…
But that was destined to changed…
In what was to become known as the Mutant Massacre several X-Teams would experience losses in their ranks…
X-Factor, were to lose Angel (Warren Worthington III) when grievous injuries cost him his wings…though he was later to return as the razor-winged, blue-skinned Archangel…
But the X-Men would lose three of their number…and none more brutally than Nightcrawler…
Squaring off against the highly advanced sentinel, Nimrod, Nightcrawler decided to use a technique that Rogue had used earlier when she borrowed his powers…to teleport with part of Nimrod in order to short out the sophisticated robot. Storm warned him that it was unwise to use the same tactic on Nimrod a second time.
But…
With the help of Cerebro, Kitty managed to find him. Setting out with Peter and Illyana, they found their lost comrade fleeing from a bloodthirsty mob, a mob that received quite a dressing down by a rather ticked-off Kitty, it was discovered …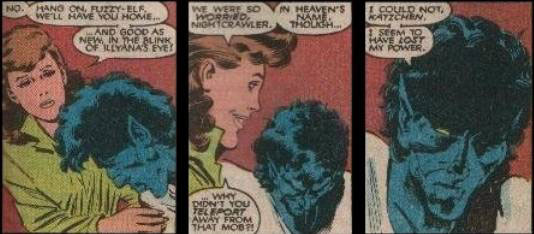 Ever the plucky young hero, Nightcrawler attempted to bounce back…only to find he wasn't up to it…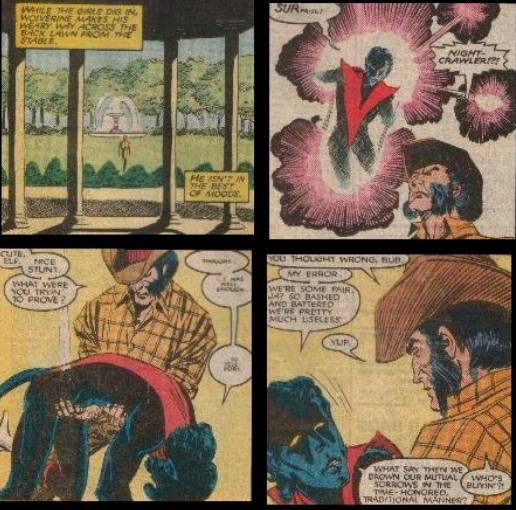 This was soon to prove possibly fatal when a badly beaten Morlock arrived at the mansion with the terrible news that the group of underground dwelling, physically deformed mutants were being slaughtered by a group of outsiders calling themselves the Marauders…
Despite his injuries, Nightcrawler accompanied the rest of the X-Men to the tunnels beneath New York that were the Morlocks' home…where his injuries were soon made much, much worse…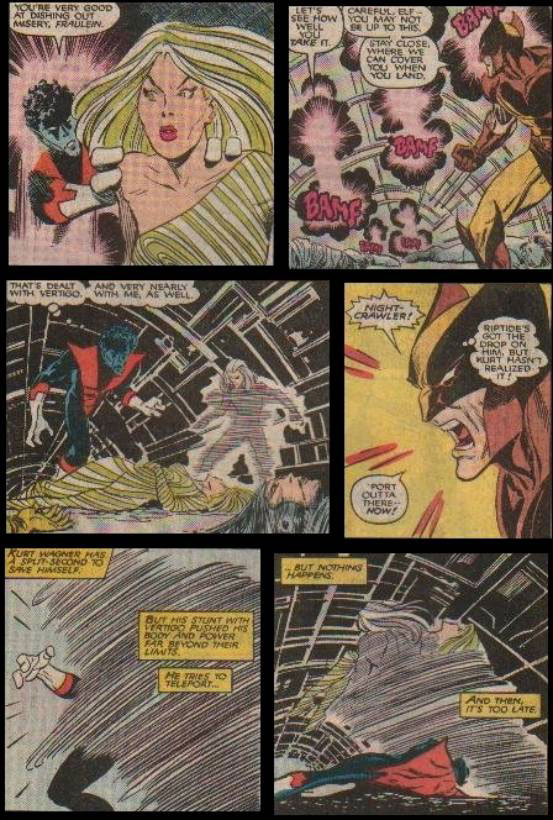 The extent of Kurt's injuries were not to be revealed until the X-Men returned to the mansion…which was not before Shadowcat and Colossus were also gravely injured by the homicidal Marauders. Storm, as team leader, felt responsible for all the wounded…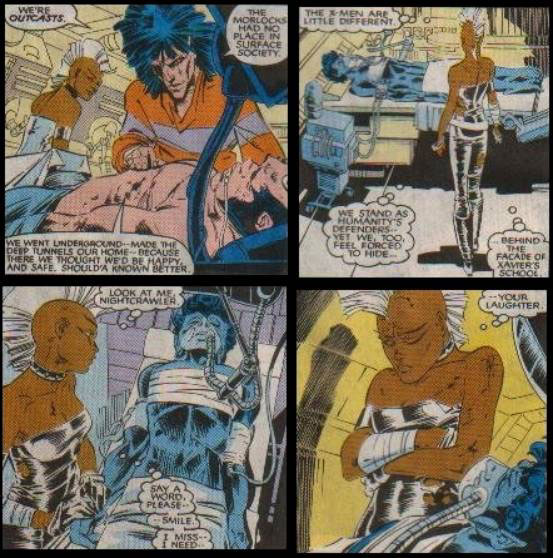 But as they were about to lose three members…they received a new one…Betsy Braddock…twin sister of Brian Braddock…better know as Captain Britain…joined the team under the codename Psylocke.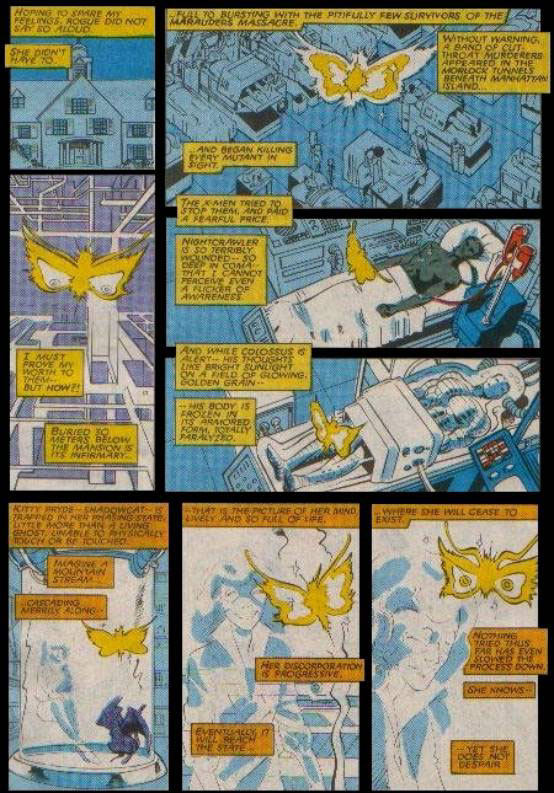 All three were in dire shape. Though Colossus soon recovered enough to rejoin the team, Kitty remained as intangible as a ghost, and Kurt was not to awaken for quite some time. In fact, he awoke just in time to comfort Kitty after a most tragic occurrence…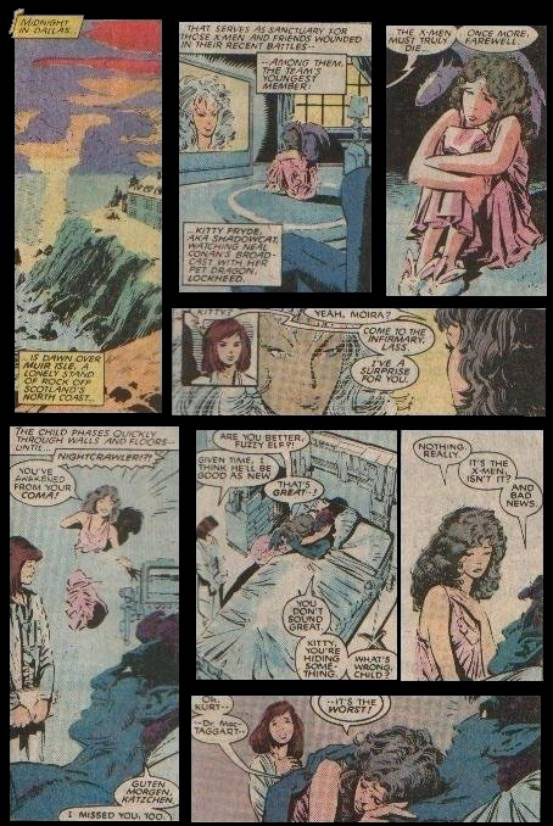 They remained on Muir Island, the guests of Moira MacTaggart, after all, where else did they have to go? Determined to get back in the swing of things, Kurt was back at his rigorous training as soon as he was given the all clear…even though he really wasn't up to it…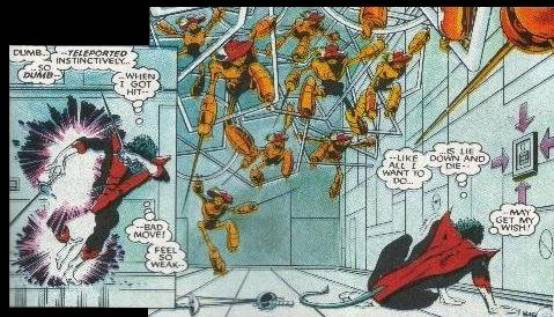 Fortunately for him, Kitty arrived in time to save him, scolding him for frightening her. As they walk back to Moira's cottage they discover that they have experienced a shared dream, a dream of their former teammate, Rachel Summers, the X-Man known as Phoenix. They think this even stranger when they arrive at the cottage to find Gatecrasher, an intergalactic bounty hunter, waiting for them. Before she can explain her presence, Meggan arrives having fled from Captain Britain's drunken rage over the loss of his sister, Psylocke, who died with the other X-Men. They trio then learn that Gatecrasher has been hired to bring in Phoenix. When they flatly refuse to help her, she brings in the Technet, who quickly subdue Meggan and Kitty, Kurt only escaping by teleporting…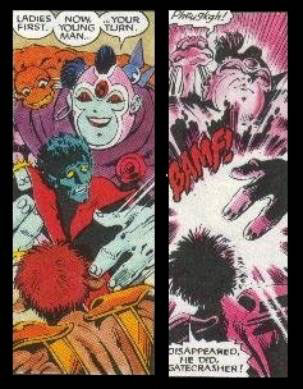 Unknown to any of them at the time, Phoenix had escaped from Mojo's world, where she'd been his star for some time, and returned to Earth, arriving in London, with Mojo's Warwolves, chromed, dog-like creatures, hot on her trail, dispatched to bring her back…
Meanwhile, knowing he's no match for Gatecrasher and the Technet on his own, Nightcrawler digs up Moira's file on Captain Britain and sets out to enlist his help. However, he is far from impressed by what he finds, and drops the unconscious Brian into the ocean in hopes of sobering him up. Brian doesn't take this well, believing somebody is trying to kill him, but is surprised to find Nightcrawler waiting inside with a hot cup of coffee. Kurt is enraged at Brian's apparent lack of concern for their missing friends…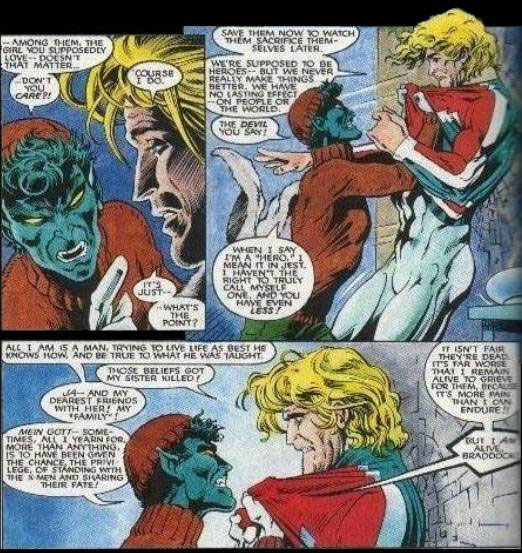 Believing Brian to be a lost cause, Kurt decides to track down Gatecrasher on his own. Deciding to track Rachel due to the ease of sensing her high her power level, he found her shortly after the rival bounty hunter groups were fighting over her, and used the melee to his advantage…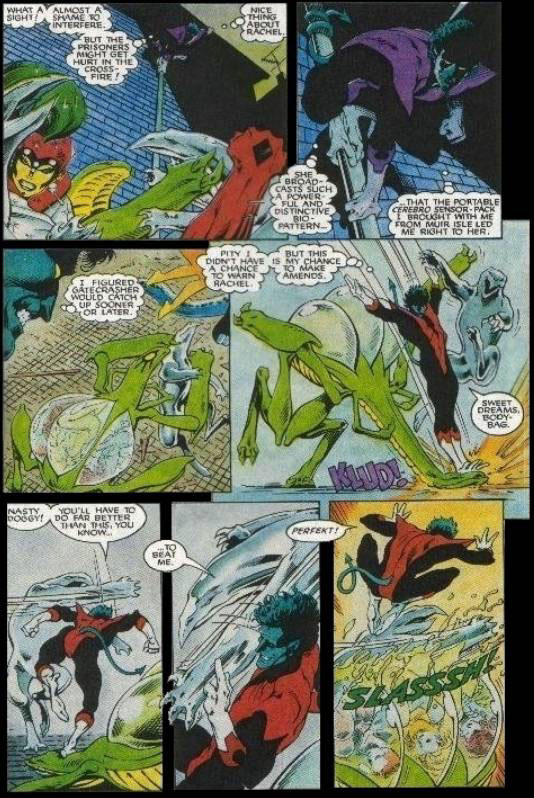 Knowing he couldn't possibly beat so many opponents alone, and having a little difficulty with an attacking Warwolf, he asks the newly freed Rachel for help only to find the metallic monsters are immune to her power. Surprisingly Gatecrasher comes to his aid…but only because she wants the pleasure of tearing Nightcrawler limb from limb herself. She is momentarily distracted by the timely arrival of Captain Britain…who soon finds himself under attack by a Warwolf wielding Thug…
Gatecrasher then abandons Nightcrawler in favour of Rachel. Kurt realises the reason they're doing so badly against their foes is that they are working as teams…but by the three former X-Men soon manage to turn the tide when they start working together (with little help from Meggan and Brian)…then enjoy a long overdue reunion…
The quintet spends the evening together around a roaring fire, swapping stories and generally just having a good time. As the hour grows late, Brian and Meggan bid them goodnight, Brian assuring them that he will take care of the Warwolves why they get back to their lives. Rachel says that just because the X-Men are dead that doesn't mean Charles Xavier's dream has to die with them…she suggests that they take up the fight in their place. Kurt and Meggan quickly join her, reaching out to Kitty and Brian in turn…
Captain Britain was meant to be the team's leader…they were on his turf after all…but he was not cut out for it, and the girls continuously looked to Nightcrawler for guidance…and even Brian agreed Kurt was more suited to the job…so Kurt reluctantly took over the mantle of leadership…remaining there until he, Shadowcat and Colossus returned to the X-Men…