Warning...
This page is graphic intensive...
It make take a while to load...
And if you get any of those little red Xs...
Just 'right click' 'em and pick "Show Picture" and the should show up for ya...
Amanda
After his mother abandoned him, Kurt was taken in by Margali Szardaos, who raised him as if he was her own child, though she neither adopted him nor hid the truth from him. Kurt knew Margali was not his natural mother, and that her true children, Stephan and Jimaine were not his brother and sister, though the trio were as close to one another as if they were.
But as they grew, Kurt and Jimaine's relationship would change. The sibling fondness of their youth would grow in to a true love. But their exploration of their newfound feelings would be cut short when Kurt came to a life altering decision…
And though he asked her to go with him…Margali had other plans for her daughter…and so the pair separated with Kurt's promise that they would meet again…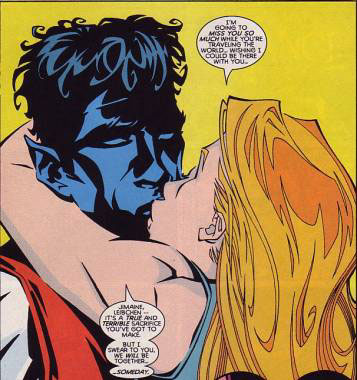 Shortly afterwards, Kurt was recruited by Charles Xavier to join his new team of X-Men. Seeing as how the powerful telepath had just saved him from a lynch mob, how could Kurt refuse? But Xavier's promise to help him learn who he was proved a greater incentive…
Kurt had only just settled into his life in America when he and his fellow X-Man, Peter Rasputin met a couple of young ladies on Christmas Eve…

The quartet spent most of the evening together…but Kurt had a strange feeling about Amanda…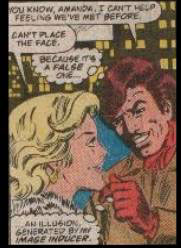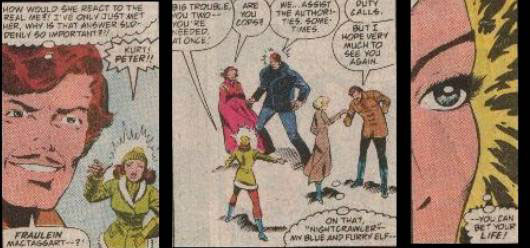 Though, thanks to their professions, they would see each other infrequently over the next few months, they still managed to see each other whenever time permitted…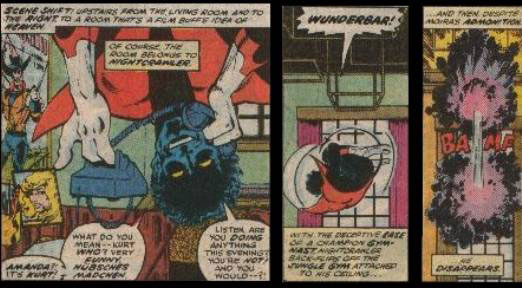 But things would take a rather strange turn…
On Kurt's twenty first birthday, he and his fellow X-Men would find themselves in what appeared to be hell…facing off against Kurt's foster mother, Margali, who held him accountable for the death of her son, Stefan. They thought Margali responsible, but all were surprised to find their predicament was orchestrated by another party…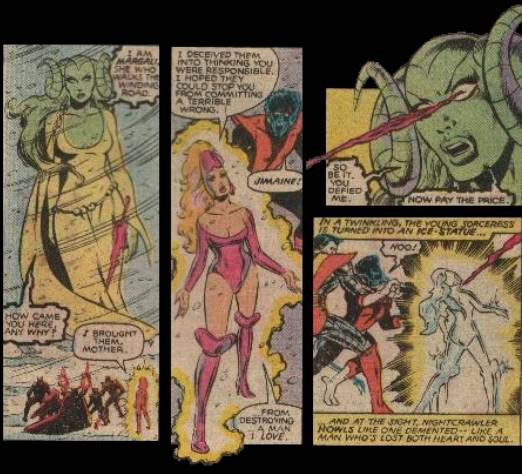 Kurt managed to convince Margali of the truth about Stefan's death. Though Kurt was responsible, he was only following through on a solemn vow he had made with Stefan when they were younger…Stefan feared his darker side, and asked Kurt, that if he were ever to succumb to that darkness, that he would kill him. With new understanding, Margali forgave him, and returned them all to the mansion…including Jimaine…who had another surprise in store…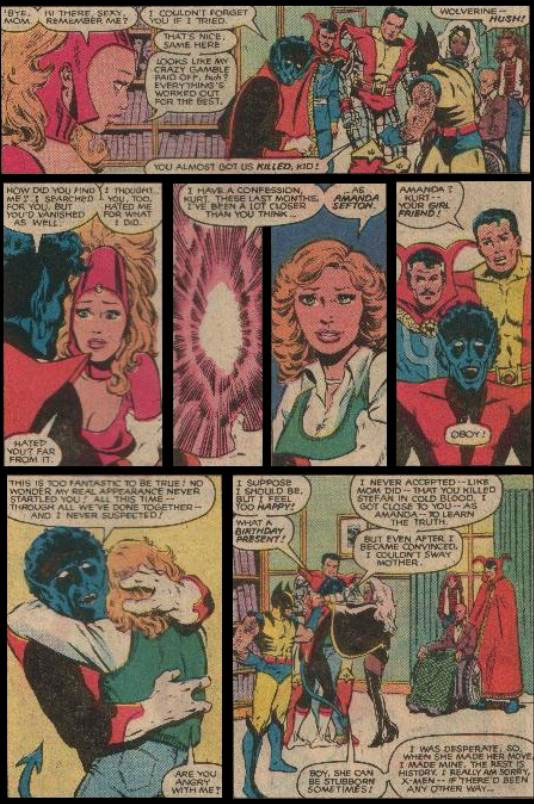 They would continue to see each other whenever their schedules would allow…but if there is one constant about being an X-Man…things never go as planned…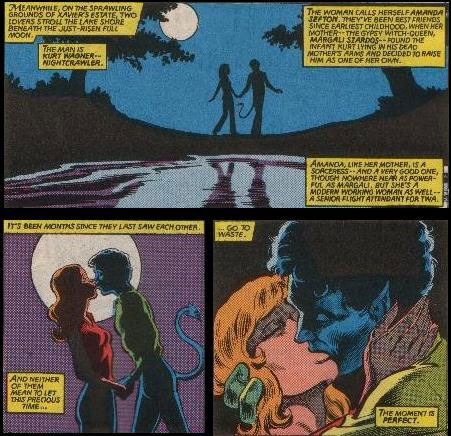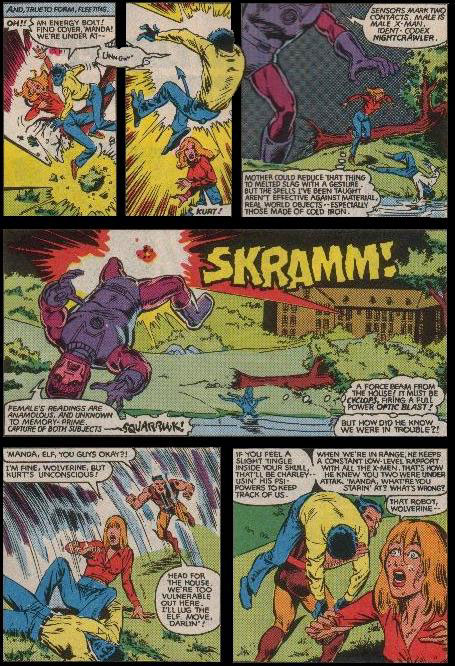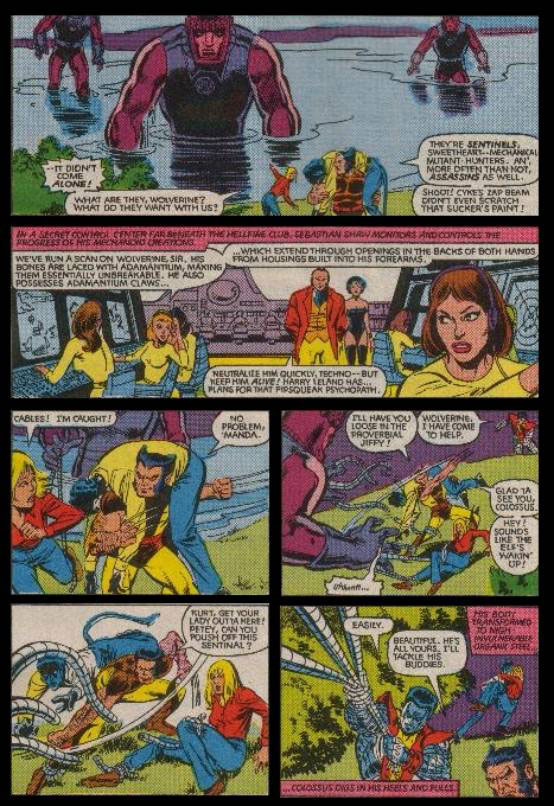 But Kurt protected his lady, and his friends, in a manner all his own…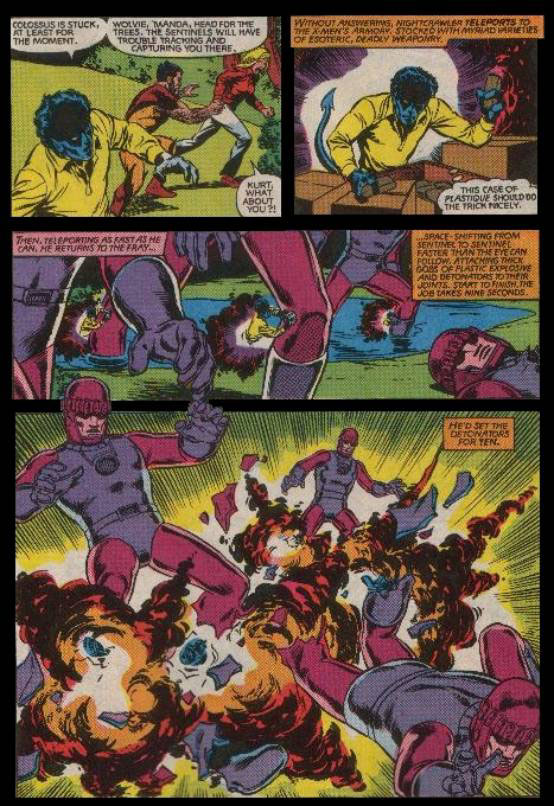 Things went well for the young couple…especially the following Christmas…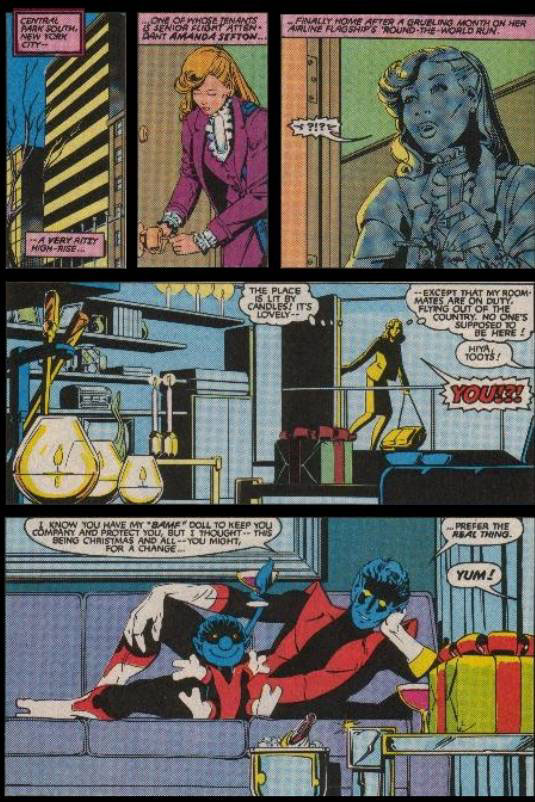 And it would seem Kurt was considering making their relationship a little more permanent…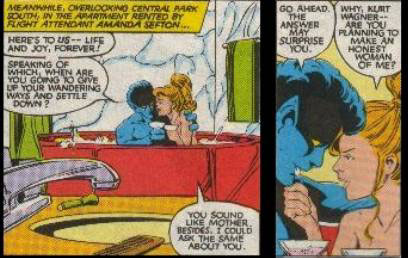 But, as is quite often the case, the tender moment was interrupted when Kurt had to go and help rescue a kidnapped Warren Worthington…
After rectifying that situation the X-Men were off to Japan, having been invited to Wolverine's wedding! Unfortunately for the groom, his intended called it off at the last moment…claiming he was not worthy of her. It weighed heavy on all their hearts as they shared their friend's pain. On his return to America, Kurt was feeling more than a little sorry for himself…he missed Amanda, but she was working…but she still had her own way of lifting his spirits…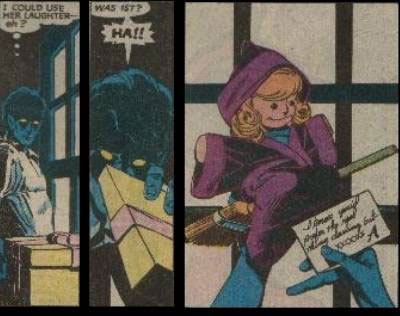 Shortly afterwards, Kurt had a crisis of faith. He lost his direction, both within the team and with Amanda…
The X-Men had been abducted by a being called the Beyonder and transported to San Francisco. But Kurt had been left behind, making him question his worth as an X-Man. Why had he alone been left behind? Was he so beneath notice?

She told him that they had called…that they had been worried about him…that they were glad he was all right…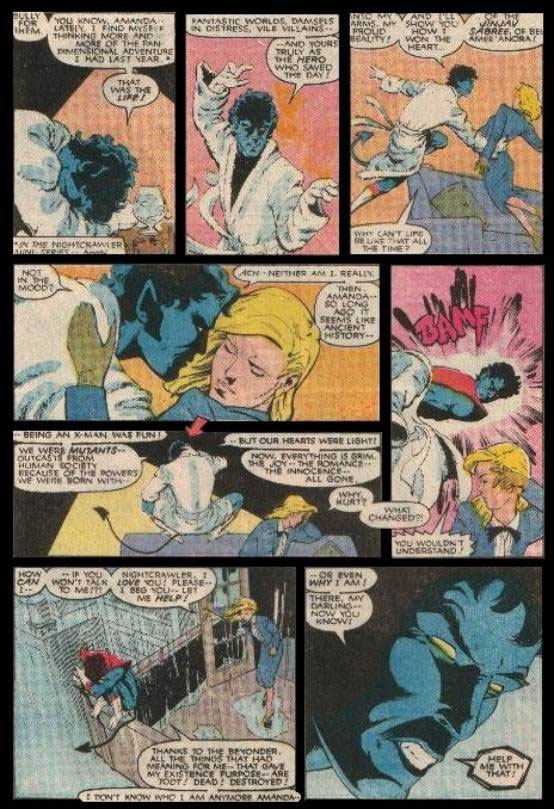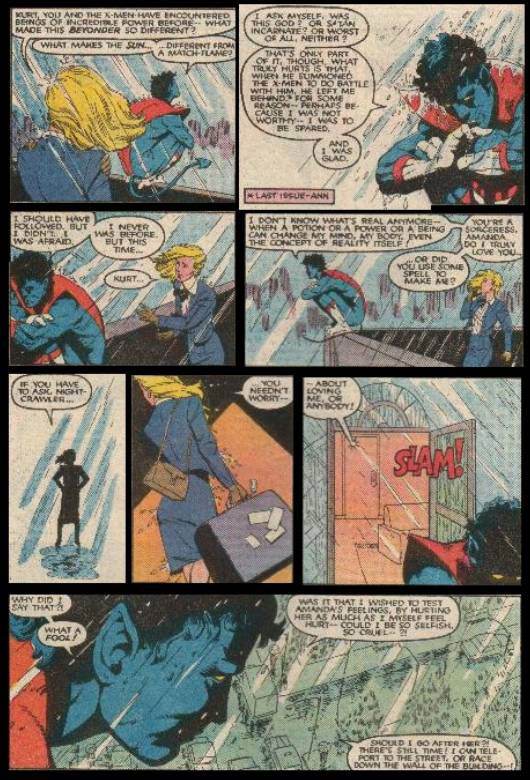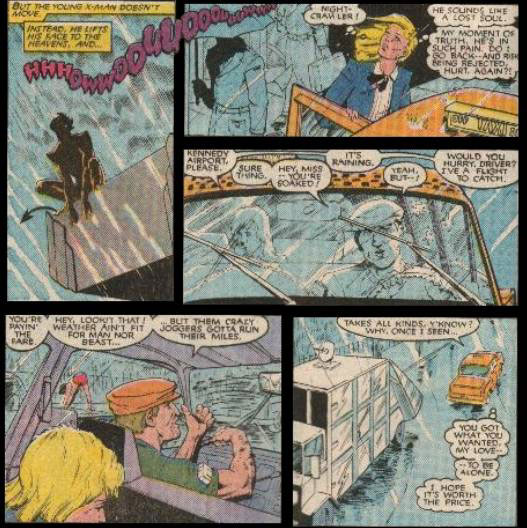 Kurt, who had always been able to bounce back from anything, couldn't seem to bounce back from this. He seemed to be shattered to the core…he no longer found any joy in his work…and this would cost him dearly…
It would almost cost him his life…
But Kurt survived…went through much…found a new love, and lost her again…but when he sought to rescue Captain Britain, lost in the timestream, he could only think of one person to call…and, rather surprisingly, she came…
Kurt and Amanda were reunited…and it didn't take them long to take up where they'd left off…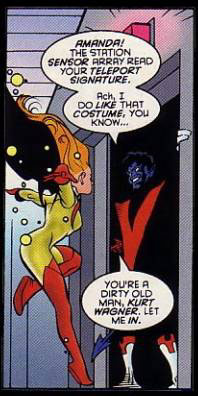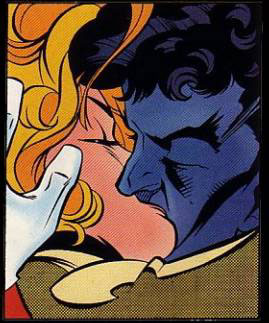 But fate had never been particularly kind to them in the past…and wasn't prepared to cut them any slack now. But it was Margali who was to cause the rift between them this time…
Amanda had come into possession of the Soul Sword, and had given it to her mother for safekeeping, unaware of her plans for it. Having defeated her attempts to raise a demon that dwelt beneath London…the pair felt they deserved a little time together…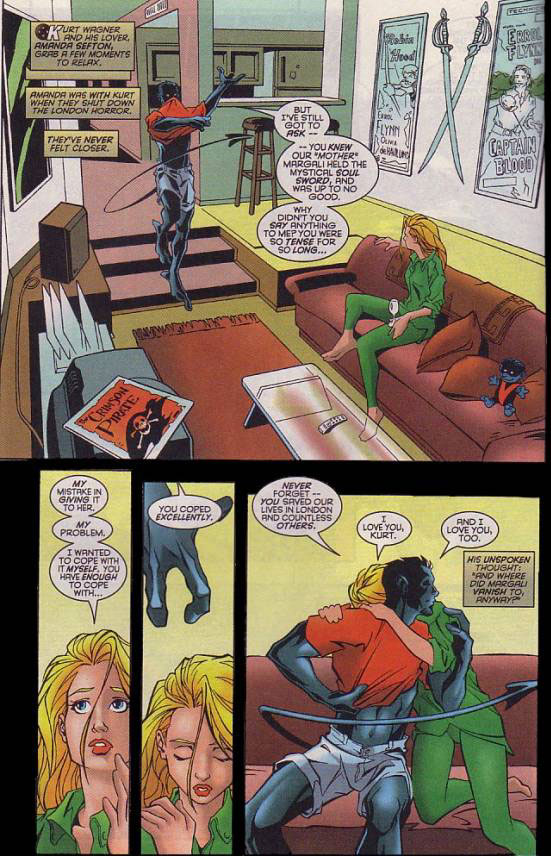 But Amanda felt responsible, and soon left to handle things on her own…without even saying goodbye…
Kurt came to her aid, however, accompanying her, or rather, Margali in her body, to Limbo to battle Belasco for the Soul Sword. Though they emerged victorious, and after returning Amanda to her rightful body, Margali left her daughter once again to clean up after her. This left the young lovers in something of a quandary…Amada could not leave Limbo unattended…and Kurt had duties elsewhere…
They parted on agreeable terms, both confident that their paths would cross again. Fate may have a tendency to tear them apart…but it also found a way to bring them back together again…
Though it would seem that fate would have the last laugh…for the next time it brought them together…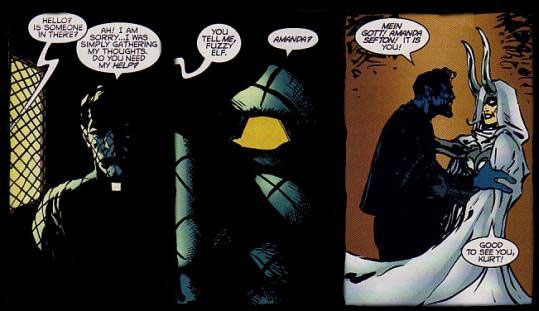 Kurt had sworn himself to a higher power…though it didn't stop their delight at seeing each other again…
---
Ladies Man Index
Home