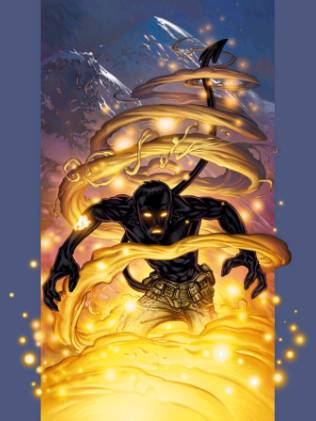 Real Name: Kurt Wagner
First Appearance: Ultimate X-Men #7
Abducted from his Bavarian home by the Weapon X program, young Kurt Wagner was transformed into a brimstone-breathed biological weapon of mass destruction. Quite possibly the most uncontrollable of the program's subjects since Wolverine, he too managed to escape the compound, killing several guards in his bid for freedom. Unfortunately, he was recaptured, and severely punished (the soles of his feet were burnt until he could no longer feel pain) as an example to the other mutant residents should they think to escape. Though he survived this ordeal, he was hardly in the best of shape, physically, mentally or emotionally.
When the X-Men were targeted and captured to increase the ranks of Weapon X, Jean Gray befriended the unusual looking Nightcrawler, and managed to get around the language barrier (this version doesn't speak a word of English), and returned to him something he'd lost long ago…hope.
After several missions with his newfound friends, the X-Men's rivals, Magneto's Brotherhood of Mutants, affected a jailbreak, the Weapon X program was soon decimated by its former operatives. Kurt then surprised all concerned by siding with neither team, opting instead to return home…
Personal Opinion: Can you believe that this guy is only fourteen years old? He certainly looks cool, though, and didn't appear nearly enough (but as a Kurt fan, I could be more than a little biased…). I personally prefer his teleport signature to the traditional one...his sparkly golden spiral LOOKS like a vortex ripped open in space/time. This version is possibly even more deadly than the Age of Apocalypse version, though, admittedly, he only killed for self-preservation. He was what Weapon X made him… Though he obviously managed to keep some of himself, some shred of his soul…he agonised over what they made him do, he wouldn't let Storm become a killer as well, and he refused to take part in the human/mutant war. But with looks such as his, can he hide from the world forever?